Alberto – Photographer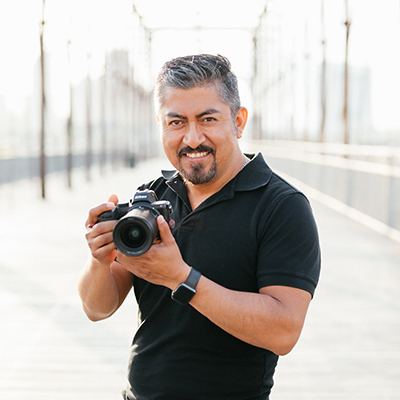 Alberto is a seasoned wedding photographer based in Houston, Texas, who has been capturing beautiful moments for couples since 2009. He is known for his stunning and creative wedding photography and has shot over 500 weddings throughout Texas.

One of Alberto's key strengths is his ability to speak both English and Spanish fluently, which has allowed him to connect with couples from diverse backgrounds and provide a personalized photography experience. His passion for photography and love for storytelling is evident in every shot he takes, as he strives to capture the essence of each couple's unique love story.

Alberto's expertise and attention to detail have earned him a solid reputation in the wedding photography industry, and he is highly sought after by couples looking to capture their special day in a way that is authentic, beautiful, and timeless. Whether he's shooting a wedding in Houston or traveling to other parts of Texas, Alberto is committed to providing exceptional service and delivering breathtaking photography that couples will cherish for a lifetime.
---
Alberto es un experimentado fotógrafo de bodas con sede en Houston, Texas, que ha estado capturando hermosos momentos para parejas desde 2009. Es conocido por su impresionante y creativa fotografía de bodas y ha fotografiado más de 500 bodas en todo Texas.
Una de las principales fortalezas de Alberto es su habilidad para hablar inglés y español con fluidez, lo que le ha permitido conectarse con parejas de diversos orígenes y proporcionar una experiencia de fotografía personalizada. Su pasión por la fotografía y su amor por la narración de historias son evidentes en cada foto que toma, ya que se esfuerza por capturar la esencia de la historia de amor única de cada pareja.
La experiencia y la atención al detalle de Alberto le han valido una sólida reputación en la industria de la fotografía de bodas, y es muy solicitado por parejas que buscan capturar su día especial de una manera auténtica, hermosa y atemporal. Ya sea que esté fotografiando una boda en Houston o viajando a otras partes de Texas, Alberto está comprometido a brindar un servicio excepcional y entregar fotografías impresionantes que las parejas atesorarán para toda la vida.
---
Gerardo – Videographer
Gerardo is a highly skilled wedding videographer based in Texas, who has covered weddings in San Antonio, Austin, Dallas, Houston, and its surrounding areas. He is fluent in both Spanish and English, which allows him to communicate with a diverse range of clients. Gerardo's journey in the wedding industry began in 2012 when he captured his first wedding, and since then, he has covered over 600 weddings.
Gerardo's creativity and vision are evident in each wedding he captures, as he has the ability to bring out the fairy tale of each event. He is passionate about his work and takes pride in capturing the most special moments of his client's weddings. Gerardo has a keen eye for detail and is able to capture the essence of each wedding in a seamless and natural way.
With his extensive experience and exceptional skills, Gerardo is a highly sought-after wedding videographer in Texas. His clients trust him to capture their special day in a way that they will cherish for years to come. Gerardo's dedication to his craft and his passion for capturing the magic of weddings make him a true talent in the industry.
---
Gerardo es un talentoso videógrafo de bodas en Texas, que cubre bodas en San Antonio, Austin, Dallas, Houston y sus alrededores. Es fluido en español e inglés, lo que le permite comunicarse con una amplia gama de clientes. El viaje de Gerardo en la industria de bodas comenzó en 2012 cuando capturó su primera boda, y desde entonces, ha cubierto más de 600 bodas.
La creatividad y visión de Gerardo son evidentes en cada boda que captura, ya que tiene la capacidad de sacar a relucir el cuento de hadas de cada evento. Es apasionado por su trabajo y se enorgullece de capturar los momentos más especiales de las bodas de sus clientes. Gerardo tiene un ojo agudo para el detalle y es capaz de capturar la esencia de cada boda de manera natural y sin esfuerzo.
Con su amplia experiencia y habilidades excepcionales, Gerardo es un videógrafo de bodas muy solicitado en Texas. Sus clientes confían en él para capturar su día especial de una manera que atesorarán durante años. La dedicación de Gerardo a su oficio y su pasión por capturar la magia de las bodas lo convierten en un verdadero talento en la industria.
---
Dalia – Photographer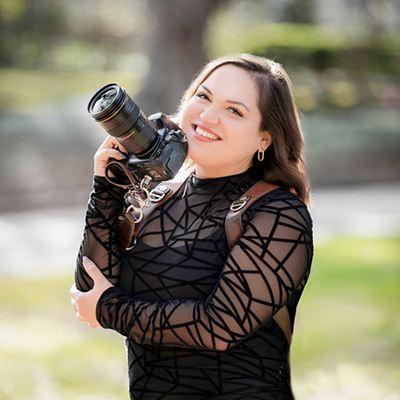 Dalia is an exceptional photographer, based in Austin, TX, who has gained a reputation for her expertise in wedding and engagement photography. Her portfolio is full of beautiful, candid shots that capture the essence of love and happiness, and she has covered weddings all over Texas, including Austin, San Antonio, Houston, and Dallas.
With over 15 years of experience in the field, Dalia has honed her skills and developed a unique style that sets her apart from other photographers. She is passionate about what she does and takes the time to understand the needs and preferences of each couple she works with. Her friendly and easy-going personality helps to create a comfortable and relaxed atmosphere, making the bride and groom feel at ease in front of the camera.
Over the years, Dalia has worked with over 400 couples, and each one has been delighted with the quality of her work. She goes above and beyond to capture every precious moment, ensuring that the couple has beautiful memories to cherish for a lifetime. With her talent and passion, Dalia is undoubtedly one of the best wedding photographers in Texas, and her work is a testament to her skill and dedication.
---
Dalia es una fotógrafa excepcional, con sede en Austin, TX, que ha ganado una reputación por su experiencia en fotografía de bodas y compromisos. Su portafolio está lleno de hermosas tomas espontáneas que capturan la esencia del amor y la felicidad, y ha cubierto bodas en todo Texas, incluyendo Austin, San Antonio, Houston y Dallas.
Con más de 15 años de experiencia en el campo, Dalia ha perfeccionado sus habilidades y ha desarrollado un estilo único que la distingue de otros fotógrafos. Ella es apasionada por lo que hace y se toma el tiempo para comprender las necesidades y preferencias de cada pareja con la que trabaja. Su personalidad amigable y tranquila ayuda a crear una atmósfera cómoda y relajada, haciendo que la novia y el novio se sientan a gusto frente a la cámara.
A lo largo de los años, Dalia ha trabajado con más de 400 parejas, y cada una de ellas ha quedado encantada con la calidad de su trabajo. Ella va más allá para capturar cada momento precioso, asegurándose de que la pareja tenga hermosos recuerdos para atesorar durante toda la vida. Con su talento y pasión, Dalia es sin duda una de las mejores fotógrafas de bodas en Texas, y su trabajo es un testimonio de su habilidad y dedicación.
---
Laura – Photographer
Laura is a highly skilled wedding photographer based in Texas who has an incredible passion for capturing the beauty and emotions of every wedding she photographs. With years of experience in the industry, Laura has built a reputation for her exceptional talent, creativity, and her ability to deliver stunning, timeless images that couples treasure for years to come.
One of the things that sets Laura apart is her fluency in both English and Spanish. This means that she is able to communicate with and understand the needs of clients who speak either language, making her a fantastic choice for bilingual couples and families.
Laura's fluency in both English and Spanish is just one of the ways she shows her dedication to providing the best possible service to her clients. Her friendly, approachable demeanor and keen eye for detail make her an ideal photographer for couples who want to feel comfortable and relaxed throughout their wedding day.
If you're looking for a wedding photographer who is passionate, creative, and able to communicate with you in your preferred language, then look no further than Laura.
---
Laura es una talentosa fotógrafa de bodas con sede en Texas que tiene una gran pasión por capturar la belleza y las emociones de cada boda que fotografía. Con años de experiencia en la industria, Laura ha construido una reputación por su talento excepcional, su creatividad, y su habilidad para ofrecer imágenes impresionantes y atemporales que las parejas atesoran por años.
Una de las cosas que destaca de Laura es su fluidez tanto en inglés como en español. Esto significa que puede comunicarse y entender las necesidades de los clientes que hablen cualquiera de estos dos idiomas, lo que la convierte en una excelente opción para parejas y familias bilingües.
La habilidad de Laura para comunicarse en ambos idiomas es solo una de las maneras en que demuestra su dedicación a brindar el mejor servicio posible a sus clientes. Su personalidad amigable y su ojo agudo para los detalles la convierten en la fotógrafa ideal para parejas que desean sentirse cómodas y relajadas durante todo el día de su boda.
Si estás buscando una fotógrafa de bodas que sea apasionada, creativa, y capaz de comunicarse contigo en tu idioma preferido, no busques más que Laura.